The New Milford Police Department currently has two School Resource Officers (SROs) that are assigned to the school district's five schools.  School Resource Officers are specially trained officers who volunteer to work in the schools.  These officers must meet certain standards and are selected after participating in a competitive process.  The officers selected for this role must have a strong desire to develop positive relationships with youth on a daily basis. 
The SROs act as a liaison between the school and the police department. School Resource Officers provide a safe learning environment by monitoring the school and the school's surroundings, interacting with parents, staff and students, and assessing security and safety protocols as well as providing input about the physical security of the building. School Resource Officers teach various lessons and educate students and staff on the law.  SRO's also act as counselors and mentors to the students, and they perform law enforcement functions in the school as needed.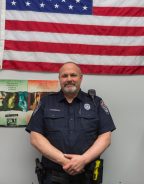 Officer Joseph Locascio
The New Milford High School's SRO is Joseph Locascio. Officer Locascio has been a New Milford police officer for since 2015 and he has been an SRO for 3 of those years. Prior to joining the New Milford Police Department, Officer Locascio spent twenty-seven years with the Torrington Police Department where he retired at the rank of Sergeant. Officer Locascio was an SRO at Northwest Regional High School for one year. Officer Locascio assists in teaching civics and Constitutional Law lessons at the high school.
Officer Nicholas Smith
The SRO at the Schaghticoke Middle School and Northville Elementary School is Officer Nicholas Smith. Officer Smith has been with the department for eighteen years and he first became an SRO in 2014. Officer Smith teaches Constitutional Law to middle school students, and he also gives presentations on vaping, sexting, alcohol use and internet safety. Officer Smith enjoys reading books to the elementary school students.